Metals are crucial in manufacturing, as they can be found in many everyday items. Whether it's a car, a road sign, a steel cage, a fence or door, a shovel, a hammer, or even a frying pan, the use of metals in manufacturing is omnipresent. The reason for this is simple: metals are more potent than many of their substitute materials and are also more readily available. This is where metal manufacturing companies come in, providing the metal components necessary for any project's successful completion. From plastic machining to die casting, metal has various applications that span all aspects of our daily lives.
Know About Largest Metal Manufacturing Companies
Commonly Used Metals In Manufacturing Industry
Steel : Steel is used in construction, as well as in vehicles, machines, and appliances. It is durable, strong, and corrosive resistant.
Aluminum : Aluminum is lightweight and has good thermal and electrical conductivity, making it useful in various industries, including aerospace and transportation.
Iron : Steel is made from iron, and metal is used to construct bridges and buildings.
Brass : Brass is an alloy made by mixing copper and zinc. It is robust and long-lasting, making it ideal for use in hardware, such as doorknobs and locks.
Copper : The ability of copper to conduct heat and electricity makes it useful for electrical components.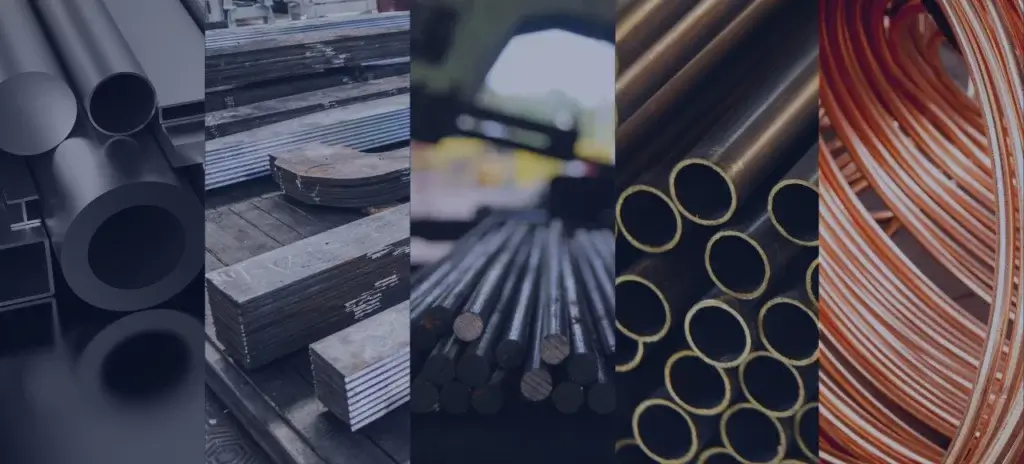 Top-rated Largest Metal Manufacturing Companies USA
Zetwerk : It is one of the largest metal manufacturing companies in the United States. In a few years, we've quickly pushed into being among the top metal manufacturers in output and quality. With cutting-edge technology and innovative processes, Zetwerk has become one of the go-to names for customers requiring precision metal fabrication services. We are now trusted by companies across various industries, such as automotive, medical, aerospace, and industrial equipment, to name a few. Zetwerk is well known for creating high-quality products from materials such as steel, aluminum, zinc, magnesium, and stainless steel, among others. Zetwerk remains a leading force in the U.S. metal manufacturing industry, with an ever-growing list of local and international customers.
Reliance Steel & Aluminum Co : The company is based in Los Angeles, California, supplies steel, aluminum, brass, copper, and titanium in the form of sheets, tubes, and coils. The company also provides value-added services such as shearing, sawing, and more.
Steel Dynamics, Inc. : They manufacture, recycle, and treat steel in Fort Wayne, IN. The company produces sheets and long sheets for the automotive, construction, manufacturing, and energy industries; manufactures products in the field of building systems; processes ferrous and non-ferrous metals.
Alcoa Corporation : They are a well-established metal manufacturing company with roots stretching back over a century. In that time, it has developed a reputation for creating high-quality aluminum products across many industries. Alcoa Corp. mines bauxite in Pittsburgh, PA, refines alumina into aluminum and manufactures aluminum products. The company is one of the world's largest alumina and bauxite producers and also for smelted, cast, and rolled aluminum.
U.S. Steel Corp. : It is a prominent American company headquartered in Pittsburgh, Pennsylvania. It produces sheet steel and pipe products for the automotive, containers, appliance, construction, industrial machinery, and oil & gas industries.
Freeport-McMoRan, Inc. : Phoenix-based Freeport-McMoRan provides copper, molybdenum, and gold. It owns twelve mines and serves technology, infrastructure, and communications companies.
Nucor Corporation : Nucor is a steel product (sheets, bars, & more) company with its headquarters in Charlotte, North Carolina. The company serves many industries, including transportation, infrastructure, oil and gas, agriculture, and automotive. They also provide materials for construction and energy as well as heavy equipment.
Xometry Inc. : It is a leading metalworking, manufacturing, and 3D printing services supplier. Their online sheet metal fabrication services provide a quick and affordable solution for any part that needs to be fabricated from 3D CAD files. The company is based in Derwood, Maryland, with partner manufacturing facilities worldwide.
In conclusion, the metal manufacturing industry is an integrated part of our global economy. Its products are used in numerous applications–from construction, consumer goods, and renewable energy to aerospace and defense. Metal manufacturing companies play a vital role in meeting this demand by providing the materials needed for new projects.
The largest metal manufacturing companies are well-positioned to capitalize on the growing demand for their products. These companies have cutting-edge technologies, skilled workforces, and strategic locations in key global markets. They are at the forefront of the industry and are driving its growth and success by introducing innovative products or new manufacturing techniques.
With the demand for metal products expected to rise in the years ahead, the metal manufacturing industry is likely to continue growing. Manufacturers, suppliers, and customers should keep an eye on the largest players in their industry to stay current on the latest developments and trends.